Home remolding is a rewarding, but often complicated process. It is important to know your end goal before you start repainting doors or smashing holes in walls. You also need to know your own abilities.  Fortunately, our wider range of resources on home improvement provide us with more tips and tricks. With videos, home improvement stores and online help, there are some tasks the average homeowner can perform. However, some tasks are more complicated than others, like bathrooms. If you're in Middlesex County, bathroom remodel projects can be as easy as hiring a quality professional. From consultation to pricing to remodeling, we can help meet your needs and make your bathroom the reality you deserve. Any remodeling involves heavy labor, complicated electricity and for rooms like bathrooms it includes plumbing as well. For any remodeling, it's best to leave it to a competent professional and call a Middlesex County handyman.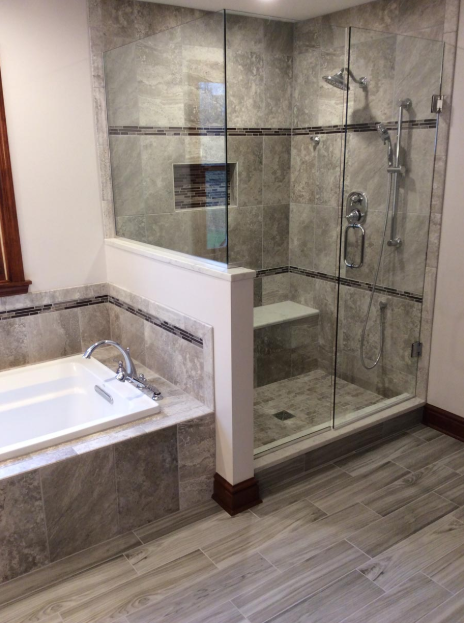 Middlesex County Handyman | Why You Need a Professional
Remodeling a bathroom is not a weekend project for even a fairly competent do it yourself enthusiast. Your bathroom could be a shambles for months if you try to tackle it only on weekends and evenings. Removing old bathroom fixtures is a dirty, messy job and they are heavy and hard to move. Working with electricity and plumbing is never a good idea if you have not received any training. There are code requirements and local ordinances to keep, and some permits may be necessary. Leave it to the professionals who have better equipment and tools, and can complete jobs more quickly and safely.
Middlesex County Handyman | Remodeling for Resale
Remodeling your bathroom is definitely a worthwhile resale investment. While browsing potential homes, a clean, attractive and practical bathroom is high on top of the list of buyers' requirements. Components like sleek counter tops, useful storage space, and double sinks, all bring a good return of investment. If you are planning to sell, it is especially important that all work is up to code. To ensure professional work, you need to hire a professional handyman. A professional can obtain all necessary permits, making sure to meet all code and local requirements, protecting your investment. When you hire a licensed, fully insured professional, you protect your investment further.
Middlesex County Handyman | Attention to Detail
If you aren't planning to sell your home, you will appreciate a bathroom remodel for years to come. A large part of the remodeling process is knowing exactly what your dream bathroom looks like. Take the time to sit down with your contractor and discuss all the possibilities and pay attention to every detail. Make sure you have a budget in mind, and that you have lots of ideas in case something isn't practical. Look on websites and in home décor magazines for color, lighting and fixture ideas. Together, you and your contractor will work hard to make sure you achieve your dream bathroom oasis.
A bathroom remodel is a good investment for your home. If you're planning to sell your home in the near future, a beautiful, updated bathroom could make all the difference.  Or, update your bathroom and enjoy the remodel yourself. The bathroom is one of the most overlooked rooms in the home, but is also one of the most used. But there is no reason it shouldn't also be one of the nicest rooms in your home.  With planning and attention, it can be a space that is as attractive as it is functional and practical. Make sure to hire a professional who can help you plan, then make those plans come true. Contact a Middlesex County handyman to help create your dream bathroom.
Related Posts:
Middlesex County Bathroom Renovations
Middlesex County Bathroom Makeover