Thinking of getting a Middlesex County Bathroom Makeover? A bathroom makeover adds value to your home and updates your home with style. There are several things you can add to your bathroom makeover. Remodeling your bathrooms are a great idea to add spa features creating a more relaxing environment. Bathroom makeovers can create a more comfortable and calming space.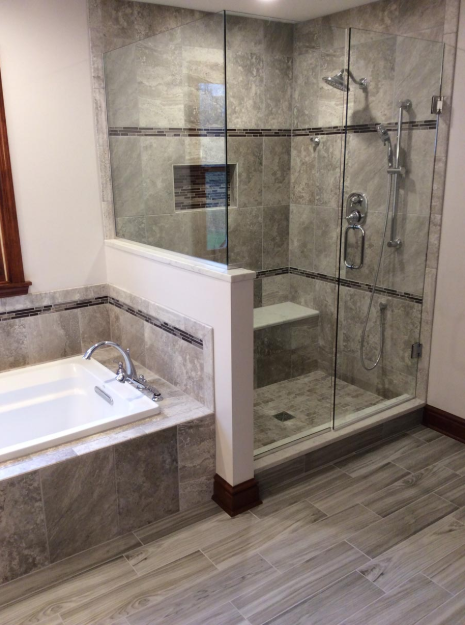 Middlesex County Bathroom Makeover | Tiles
Choosing a shower tile with texture can upgrade your bathroom to a more modern style. Most modern bathroom tiles are easier to clean and maintain. They are also made to resist mold and stains. Some tiles are in ceramics and porcelain. You can mix and match them in different patterns and colors.
Middlesex County Bathroom Makeover | Baths and Tubs
Older bathrooms have smaller tubs where you can't even take a bath comfortably. A bathtub is not always a necessity, but it is a nice addition. Showers are more common. Having a bathtub and a shower adds greater appeal to a future buyer, when selling your home. A bathtub is even more appealing to future buyers if they have children. If you have a large bathroom, you can definitely include a bathtub and a luxurious shower.
Middlesex County Bathroom Makeover | Windows
Added windows in the bathroom allows the natural light to come in. Also, a window is great for proper and natural ventilation. When there is not enough ventilation in a bathroom, the humidity gets trapped and can cause mold and mildew. With a window letting in natural light, it is both beautiful and safe. A professional designer would know what type of window is best for your new bathroom.
Middlesex County Bathroom Makeover | Cabinets
When giving your existing bathroom a makeover, adding some cabinets will create more storage space. Cabinets that are in the wall add extra space and have a sleeker look. In addition, the cabinets that are installed within the wall, give more room when using the sink. There are less issues with getting hit on the head while being by the sink.
Middlesex County Bathroom Makeover | Lighting
Getting a bathroom makeover is what every homeowner dreams about. Improving the lighting in the bathroom adds more beauty and helps show off your new bathroom. Between natural lighting from the new window and extra lighting added to your current lighting will improve the functionality and mood of the bathroom space. Installing a dimmer to the main lights can help adjust the mood you want in the bathroom. There are also nightlights that can be installed which can go on automatically. A professional designer can also add recessed fixtures around the mirror to give you the best lighting when using the mirror for hair, shaving and other things. Adding additional recessed lighting in the shower, will make the shower more pleasant and safer. A bathroom makeover makes the bathroom more efficient and more functional.
Searching for the best Middlesex County Bathroom Makeover? Contact All Things Home Improvement, LLC. We are the leading custom home remodeling and renovations company in Central New Jersey. We provide a variety of quality products and durable materials. Trust a team of talented, trained craftsmen to create your unique dream into a reality. We always provide professional results. Our team has exactly what you need, from start to finish. Give us a call today to discuss your next home project so we can help you see it come to life. We are a full-service operation and our home remodeling projects can be as big as a total makeover or a small touch-up. For more information, call us today!
Related Posts:
Middlesex County Bathroom Renovations
Middlesex County Bathroom Remodel