Owning a home is a labor of love. Keeping it in tip-top condition is important to you. From spring cleaning to keeping the colors and décor fresh and clean, you lovingly tend to your home. You keep up with trends and designs, but there is often one very important room in the home homeowners overlook. It's easy to forget bathrooms when you are carrying out home improvements. The bathroom is one of the most used rooms in your home. There might be other spaces you can keep under wraps, but even guests use it when they come to visit. Renovating your bathroom not only can make it more attractive, it can help you make the most of the space. Updating showers and toilets can also help save water and consequently, money. If your bathroom is outdated, and needs a fresh, clean look, contact a Middlesex County bathroom renovations professional today.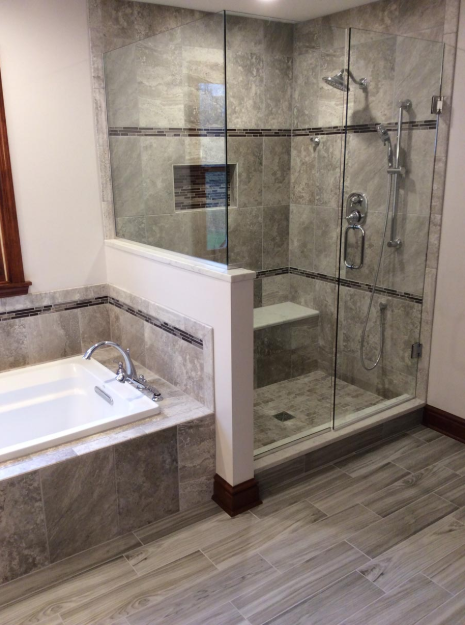 Middlesex County Bathroom Renovations | Hiring a Professional
As a homeowner, there are lots of do it yourself projects you can handle, but bathroom renovations are complicated projects. It is always best to leave these jobs to a professional. These jobs involve plumbing and electrical wiring, both of which require professional experience. Toilets, sinks and tubs are all heavy, and cumbersome. Installing them is dirty work and it takes skill and expertise to plumb bathroom fixtures in correctly. Hiring a professional also saves you lots of time, which is essential if you only have one bathroom. When you hire a licensed, insured contractor, you protect your property and your family.
Middlesex County Bathroom Renovations | Planning and Design
Renovating your bathroom requires planning and attention to detail. There are so many design choices to make. Make sure not to overlook all aspects of your beautiful new space, such as flooring, cabinetry and lighting. Low pressure showers and toilets can save water and money on water bills. Hiring a professional ensures you the beautiful bathroom oasis you always wanted, with the best quality fixtures and furnishings. Professionals can help you select all the finishing touches that make your bathroom as beautiful as it is functional. Whether you're updating a small powder room, or creating a spa at home, it's important to plan every design element.
Middlesex County Bathroom Renovations | Expert Advice
When you're looking for a company to complete your bathroom renovation, look for one that can undertake the entire process. By hiring a company that also understands the design and planning process, you're sure to get exactly what you want. You can work with professionals to envision and plan every detail. Trained experts at renovations, they can help you make the most of the space. They can help you decide on which features work best in your space and for your family. If you need help deciding on single or double sinks, walk-in tubs or stand up showers, consult a bathroom professional.
If your bathroom needs a renovation because it is outdated, or unattractive, you should always hire a professional company. Wiring and plumbing take expertise and training, and it's easy to make mistakes when you try to do it yourself. Renovations take time to complete, so hire someone else to do it for you. No one wants the bathroom torn apart for months at a time while trying to fix it up during weekends and evenings. When you hire a professional, you can be sure you are getting high quality bathroom fixtures. Professionals have extensive knowledge and can make the most of the space you have and help you make design choices. For the bathroom you've always dreamed of, contact a Middlesex County bathroom renovations expert.
Related Posts:
Middlesex County Bathroom Remodel
Middlesex County Bathroom Makeover