If you're looking to remodel your bathroom, there are many reasons you should leave it to a professional. As a homeowner there are many projects you can tackle yourself, but bathroom renovations are complicated. For safety and security reasons, consult an expert when dealing with water and electricity. Hiring a contractor can help you get the bathroom of your dreams with less stress and mess. When you call a Middlesex County bathroom remodel expert, you can expect the job completed more quickly and cost efficiently. Whether you have a large space to renovate or a small powder room, professional contractors can handle it. Professionals can also help you with the planning and design process. Add extras like double sinks, custom tile or stand up showers or make a bathroom bigger by reconfiguring the space. By hiring professional Middlesex County bathroom contractors you're sure to get the bathroom you've always wanted.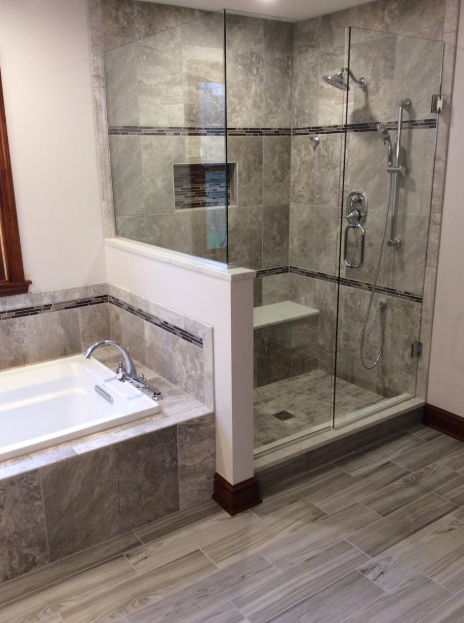 Middlesex County Bathroom Contractors | Hiring a Professional
Whenever you are dealing with water or electricity, you should always hire a professional. Bathroom renovations include both water and electricity, so if you don't know what you're doing, it could be dangerous. A bathroom remodel could potentially add resale value to a home, but only if it is done correctly. Everything needs completing up to code, and there may be permit requirements to fulfill. Professional contractors have the tools, training and experience to complete all work to meet codes and local standards. They can obtain any necessary permits and hiring licensed insured contractors protects you, your family, and your property.
Middlesex County Bathroom Contractors | Save Time
When you hire bathroom contractors, you are hiring a team of people who work together. This is their job, and they can perform the work without distractions or other commitments to slow them down. If you try to complete bathroom renovations on your own time, during evenings and weekends, it could take months. During this time, you have to deal with mess and a bathroom you can't even use. You can save weeks of valuable time by hiring contractors to perform the work. Doing the job right the first time saves money and hassle; you don't have to get someone to fix mistakes.
Middlesex County Bathroom Contractors | Planning Ahead
A big part of the renovation process is planning to make sure you get exactly what you want. Before work starts, look through home magazines and visit home improvement websites to get ideas. Take the time to stroll through bathroom fitting aisles at your local home improvement store. Don't overlook finishing touches like counter tops and mirrors, storage space, lighting and flooring. If you have always wanted a double sink, or make up vanity, ask your contractor if these are viable options. By working closely with your contractor, you get helpful expert advice on what works with your space and your budget.
A bathroom remodel is not a weekend project. It might require special permits and attentions to local codes. Plumbing in heavy bathroom fixtures is not an easy process. Fixtures like toilets and bathtubs are cumbersome and messy to install. You really need specialized training to work with water and electricity safely. Leave jobs like bathroom remodels to the professionals and save time, stress, mess and hassle. Professionals can complete the job in less time, and have access to high quality fixtures and fittings. They can help with all aspects of the planning process, and give advice on what works best for your space. But keep your budget in mind, and have a few options open in case one aspect doesn't work for you. By working with Middlesex County Bathroom Contractors you can get the bathroom of your dreams.
Related Posts:
Middlesex County Bathroom Renovations
Middlesex County Handyman Services
Middlesex County Bathroom Makeover